HLTAID005 Provide first aid in remote situations
This unit of competency describes the skills and knowledge required to provide first aid response, life support, management of casualty(s), the incident and other first aiders, until the arrival of medical or other assistance. This course is suitable for those students requiring workplace first aid skills.
Important information prior to enrolment
Provider of training and assessment
This course is delivered and assessed on behalf of Allens Training Pty Ltd RTO 90909 Pulse Training.
Unit Being Delivered
The following unit(s) will be awarded to successful participants in this course. The certificate will be issued by Allens Training Pty Ltd RTO 90909.
HLTAID005 Provide first aid in remote situations
HLTAID003 Provide first aid
HLTAID002 Provide basic emergency life support
HLTAID001 Provide cardiopulmonary resuscitation
To view full unit details please visit www.training.gov.au
Course Delivery
This course will be delivered in the workplace or at a Pulse First Aid Training training facility.
Course Duration (face to face)
Face to Face – 8 hours (minimum) – full face to face course
Blended delivery – 6 hours (minimum) face to face course – with the addition of 2-hour self-paced learning to be completed prior to attending the face to face course
Refresher training – 6 hours (minimum) – conditions apply for this option, for example, you will need to provide previous current certificates.
Work Placement Arrangements
No work placement will be required as part of this course.
Learners Rights, Responsibilities and Support, including Complaints
Please note that enrolment to this course is made with Allens Training Pty Ltd RTO 90909. Please refer to the student handbook located on the RTO website allenstraining.com.au/students/student-handbook for all details relating to rights and responsibilities including complaints and appeals.
Course Fees and Payments
The fee for this course is $200
Please refer to our booking calendar for individual course fees.
Refund and fee protection policy – Please refer to the student handbook.
Payment Terms – Payment for individual participants is upfront, group booking payment terms are based on agreement between the client and service provider.
Assessment Requirements
Individuals undertaking this course will be expected to complete both written and practical assessment tasks. These are detailed in the sections following.
Entry Requirements
Participants must have the physical capacity to establish and maintain first aid facilities.
Participants must be able to use a computer t conduct research on the internet.
Participants must be able to perform 2 minutes of CPR on the floor.
What happens at the course?
Assessment Activities
Assessments conducted during face-to-face training session(s) include:
Performance tasks – The assessor will observe you demonstrating the following:
Infant CPR
Adult/child CPR and defibrillation
Anaphylaxis and epi pen
Asthma and medication
Written incident report
Choking
Head injury
Turn a casualty on his/her side
Bleeding control and shock
Pit for snake/spider bite
Rice for sprain
Bandage and sling for fracture
Seizure
Poisoning
Verbal report, debrief and evaluate
Theory assessment
Research relevant websites to locate First Aid Codes of Practice and answer written questions
Complete a written first aid response plan form
A written assessment consisting of multiple-choice and short answer questions. You must complete all assessment questions.
Frequently asked questions
What is a USI?
USI (Unique Student Identification)
This is a new Government requirement. Your Unique Student Identifier (USI) will contain all your nationally recognised training records and results from January 1 2015 onwards. Applying for your own USI number is relatively easy to complete.
To apply for a USI is quick and easy. Go to www usi.gov.au.
Step by step instructions on how to gain your USI number can be downloaded by clicking here.
For more information about the the USI go to: https://allenstraining.com.au/students/student-handbook#USI
Can I change the date once I've booked?
Yes. Look at the calendar and see what course you would like to change to, then send us an email using the contact form and we will send you a new invitation for the new date.
There is no additional cost to make this change this change.
What if I don't see a date for the course I want to book?
If you'd like to attend a course, but there is no date scheduled you should contact us using the contact form and let us know which course interests you. Often we have had other enquiries about the same course and are able to schedule a date that suits.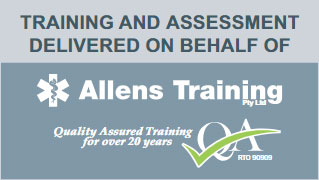 Pulse First Aid conducts First Aid training under the auspices and in partnership with Allens Training Pty Ltd RTO 90909.