HLTAID001 Provide Cardiopulmonary Resuscitation (CPR)
In day to day life, in the workplace, in the community or at home, you may be confronted by a life-threatening emergency such as someone experiencing Cardiac Arrest. Quick decision making and knowledge on what to do could save someone's life.
This course provides you with the skills and knowledge to recognise when someone is unconscious and not breathing normally (Cardiac Arrest) and increase their chance of survival by calling an ambulance and performing potentially lifesaving cardiopulmonary resuscitation (CPR), including using a defibrillator, until emergency services arrive to take over.
The course is delivered in line with the Australian Resuscitation Council guidelines and applies to all workers or members of the community who may be required to provide CPR in the event of an emergency.
Important information prior to enrolment
Unit Being Delivered
The following unit(s) will be awarded to successful participants in this course. The certificate will be issued by Allens Training Pty Ltd RTO 90909.
HLTAID001 Provide Cardiopulmonary Resuscitation
To view full unit details please visit training.gov.au
Course Delivery
This course will be delivered in the workplace or at a Pulse First Aid Training training facility.
NEW COURSE DELIVERY METHOD
Online Training with Face to Face Assessment
Study conveniently and safety online and attend a short practical assessment.
Small groups of 1-4 students.
30 minutes (minimum) face to face assessment with the addition of 3 hours of self-paced learning to be completed prior to attending the face to face course.
NOTE: Alternate course delivery available for some group bookings
Contact us by phone or email to enquire.
Course Duration (face to face)
Face to Face – 3 hours (minimum) – full face to face course
Blended delivery – 2 hours (minimum) – with the addition of 2 hours self-paced learning
Refresher training – 2 hours (minimum) – conditions apply for this option, for example, you will need to provide previous current certificates.
Provider of Training and Assessment
This course is delivered and assessed on behalf of Allens Training Pty Ltd RTO 90909 by Pulse First Aid Training.
Work Placement Arrangements
No work placement will be required as part of this course.
Learners Rights, Responsibilities and Support, including complaints
Please refer to the student handbook for all details relating to your rights and responsibilities. allenstraining.com.au/students/student-handbook
Course Fees and Payments
The fee for this course is $60.
Refund and fee protection policy, including cooling-off period – please refer to the student handbook.
Payment Terms – Payment for individual participants is upfront, group booking payment terms are based on agreement between the client and service provider.
Assessment Requirements
Individuals undertaking this course will be expected to complete both written and practical assessment tasks. These are detailed in the sections following.
Entry Requirements
Participants must have the physical capacity to perform 2 minutes of uninterrupted CPR on the floor.
What happens at the course?
Assessment Activities
Assessments conducted during face-to-face training session(s) include:
Performance tasks – The assessor must observe the following performance tasks:
Practical scenarios – The assessor must observe the following practical scenario:
Theory assessment – A written assessment consisting of multiple-choice questions. The student must complete all assessment questions.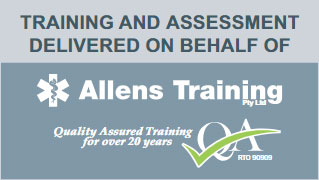 Pulse First Aid conducts First Aid training under the auspices and in partnership with Allens Training Pty Ltd RTO 90909.