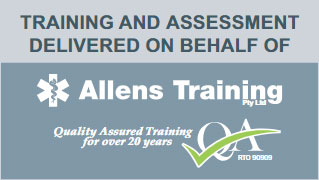 Pulse First Aid conducts First Aid training under the auspices and in partnership with Allens Training Pty Ltd RTO 90909.
HLTWHS005 Conduct Manual Tasks Safely
This unit aims to allow the student to identify, assess and control manual handling risks as specified within OH&S Manual Handling Regulations and therefore provide the knowledge and skills to limit back injury.
Important information prior to enrolment
Unit Being Delivered
The following unit(s) will be awarded to successful participants in this course. The certificate will be issued by Allens Training Pty Ltd RTO 90909.
HLTWHS005 Conduct Manual Tasks Safely
To view full unit details please visit training.gov.au
Course Delivery
This course will be delivered in the workplace or at a Pulse First Aid Training training facility.
Course Duration (face to face)
Face to Face – 4 hours (minimum)
Full face to face training and assessment and workplace practical tasks

Refresher training – 2 hours (minimum)
Conditions apply for this option, for example, you will need to provide previous current certificates.
Provider of Training and Assessment
This course is delivered and assessed on behalf of Allens Training Pty Ltd RTO 90909 by Pulse First Aid Training.
Work Placement Arrangements
No work placement will be required as part of this course.
Learners Rights, Responsibilities and Support, including complaints
Please refer to the student handbook for all details relating to your rights and responsibilities. https://allenstraining.com.au/students/student-handbook
Course Fees and Payments
The fee for this course is $100.
Refund and fee protection policy, including cooling-off period – please refer to the student handbook.
Payment Terms – Payment for individual participants is upfront, group booking payment terms are based on agreement between the client and service provider.
Assessment Requirements
Individuals undertaking this course will be expected to complete both written and practical assessment tasks. These are detailed in the sections following.
Entry Requirements
It is important to note that there are physical standards which relate to the level of performance required when undertaking accredited training. There can be no exceptions to these Australian Government requirements that are clearly written into the Training Package. Therefore, students who are unable to satisfy the physical requirements of the course cannot be deemed competent or issued with a statement of attainment, even if the qualification is a necessary part of their employment conditions. The Training Package for this unit requires a student to be physically able to conduct manual tasks safely.
What happens at the course?
Assessment – Theory
Question paper
You will be assessed on:
Key information from work health and safety (WHS) regulations relating to manual tasks and national code of practice
Role and responsibilities of the employer and employees in relation to manual handling safety
Ways in which individual workers are involved in consultation about workplace health and safety
Reporting mechanisms required for workplace injury and compensation claims
Key aspects of the risk management approach to manual tasks
Risk factors and potential sources of risks of hazards manual tasks:
– Repetition
– Forces
– Postures
– Vibration
– Systems of work
Types of manual task activity and the types of injuries that can result
The relationship between the human body and risk of injury from performing manual tasks
Functions of the human body:
– Basic function of the spine
– Body postures
– Types of muscles
– Principles of levers
Manual handling techniques that support safe work practices:
– Preparing the load/client
– Preparing the environment
– Using the stronger muscles in the legs where possible, rather than spinal muscles
– Maintaining a neutral spine when lifting and carrying
– Avoiding lifting objects about shoulder height
– Minimising repetitive movements
– Positions not held for long periods of time
– Avoiding twisting by re-positioning feet whilst turning
– Types and operational features of mechanical aids, tools and equipment
Assessment – Practical
Physical demonstrations (skills)
The simulated assessment environments will reflect the real-life working environment where these skills and knowledge would be performed, with all the relevant equipment and resources of that working environment. Skills must be demonstrated by the student working individually in an environment that provides realistic in-depth, industry-validated scenarios and simulations to assess students' skills and knowledge.
It's important that students have knowledge of the content of this course. The assessable practical skills are listed below.
You will be assessed on performing manual tasks scenario and task demonstrations for:
Report symptoms of injury or actual injury
Complete a discomfort survey
Identify a manual task involving risk
Undertake risk assessment and complete a risk assessment form
Prepare for the manual task
Safely complete the manual task